I have been wanting to make this for a long time but because it's so time consuming (and requires patience!) I didn't succeed until today. Only problem is that because of the MANY parts I had to use the freedom cheat, meaning I can't upload it to Sporepedia. So I made an in-game picture to show you: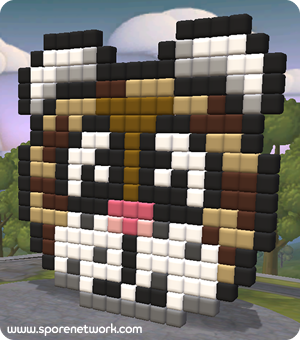 If you want it in your game, just drag the below image to your game:
---
---
---
Awesome creativity! Wouldn't be able to do it myself, honest.

Webmaster
The Sims Zone
- Webmaster
The Spore Zone
- Blokjeseliminator -
SNWeblogs!
---
this Girl has no life....

LOL and that is a very positive reaction

its awesome!!
I have to second your opinion, dekdes, she has really no life ... but OMG what nice to see her create again

Nice job, Rosana......
---
---
Who is online




In total there is 1 user online :: 0 registered, 0 hidden and 1 guest (based on users active over the past 5 minutes)
Most users ever online was 97 on Jun 05, 2013 4:06pm

Users browsing this forum: No registered users and 1 guest