Mrs Crumplebottom has a
blog
nowadays, it's Dutch but I translated
this (part of an) article
so you can all enjoy it as well.
-----------------------
A woman should be in the kitchen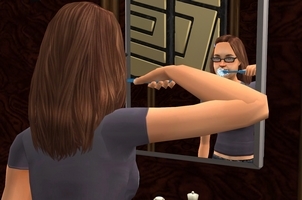 Maybe I'm being old-fashioned but I just never quite understood why women have to go to college and then even worse start working afterwards and climbing the ladder to reach the top of a career. A woman should marry and have children and be there for her husband and her children immediately when they ask for attention or want a delicious meal.
Rosana is the hard working woman type, busy with her career here in Sunset Valley. She just graduated from university and her majors were graphic design and she makes websites. She has a big project called SimsNetwork, I don't really understand what the purpose of this website is, she herself said: 'That's where I offer news, forums and downloads for people who love Sims games. Typical right! That's what Sims do for Sims!'.
And indeed as she mentioned herself: very typical because I have no idea what she's talking about; what are Sims? Oh well, I hired her to digitalize all that gossip and those secrets I collected throughout the years on tiny notes which I saved in my handbag. To say it in a blunt way: I just don't care, excuse me for my language. But in the two weeks she was visiting me in my large Villa Crumplebottom I learned many things about her.
Before I let her into my villa, a privilege only few get to experience, I did check her out first, to see if she was trustworthy enough. In my tiny handbag I found some facts about her and made the first digicard myself.
As you can see this doesn't look too professional: I urgently needed someone to process all these facts I collected through the years onto digicards. And I'm only showing you a tidbit of the data I collected, which in this case happens to be Rosana's.
Before I put Rosana to work, of course I had to test her so during a cup of coffee sitting at my mahogany wooden kitchen table I asked her to share some juicy gossip with me about her neighbors. 'I think Mollie Moonbeam sometimes doesn't wash herself! Mollie is one of my neighbors and she is having an 'interesting' way of life. I just don't get it, she doesn't have a job. Well, not a regular job like regular Sims. She primarily makes stuff herself and then sells it again.
See, I knew this Mollie Moonbeam was a strange kind of person, but I just let Rosana continue gossiping about her neighbors, pretending I found everything to be very interesting. But I had to find a way to make notes during all of this because this Rosana knew certain things I even didn't know yet and that hasn't happened too often!
'I have quite a few interesting neighbors with a female zombie living in their home! Her name is Thalea Filmore, she has an odd walk and she apparently thinks about brains all the time. Although I just heard this through the grapevine. You have no idea how many gossips go around in this neighborhood'
Riiiight... pretending only the other neighbors gossip and she doesn't, you can't fool me! However I did realize she was perfect for this job in my large villa and soon Rosana was at my computer, so focused that she had the tip of her tongue between her lips while working.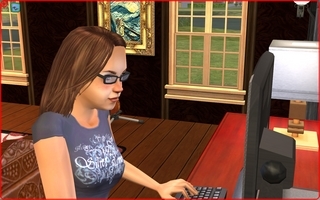 Of course I had better things to do than to keep an eye on her so I left her alone and enjoyed the spring sun in my beautiful garden. Life can be so good sometimes: just let others do the dirty work for you. However I couldn't help but worry about what I was going to do with Rosana once she was done with the digitalization job? She would know all these secrets I collected about everyone in the past years. And getting rid of her after she finishes the job wasn't an option either. Ah well, that's something I have to worry about later.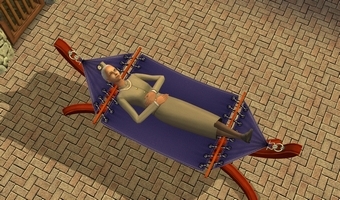 To be continued!
---
Here is part 2 of 'A woman should be in the kitchen' translated from
a Dutch article
on Mrs. Crumplebottom's blog.
-----------------------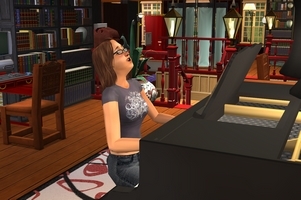 (rosana sings her own version of Shine)
~
First off my apologies for keeping you all waiting for new posts on this fascinating blog but it has been very busy this past couple of weeks. I've stayed in a nice, small and cozy home in the new neighborhood Riverview and have heard some very juicy gossip and secrets from all the new villagers there. It's a beautiful natural neighborhood; it's a shame there are so many people living there who, how shall I put this, are somewhat more Hillbilly and not exactly in my league. But it is beautiful there en who knows I may have someone build me a vacation home there someday. We'll see about that later: my point is that I was very busy as I'm sure you will understand.
Let's go back to Rosana from SimsNetwork who was digitalizing all the gossip and secrets I collected on tiny notes throughout the years. This huge job is done by now and Rosana is back at home, not knowing that she ever set foot in my beautiful and large villa. You probably understand that Rosana found out all the gossip and secrets during the digitalization process and it caused me some sleepless nights. And if I can't sleep well it will affect my state of mind and of course my mood. That's why it seemed like a better idea to leave for a few days to house sit an old friend's home in Riverview.
That did mean I had to leave Rosana all by herself but I trusted her enough and I had activated my security cameras everywhere, of course she didn't know that. So I found out even more about her, her friends and her sometimes somewhat strange habits. She definitely is a curious type: as soon as I stepped into the cab to travel to Riverview she stopped working and called for hours with her good friends
Mogway and DeKDeS
. I have no idea who they are and that's kind of strange since I usually know all: I should investigate Mogway and DeKDeS. Luckily here in Sunset Valley we don't have to pay for phone calls and that's a good thing: boy can this woman chit chat! ... it didn't seem to end. My security cameras of course captured everything.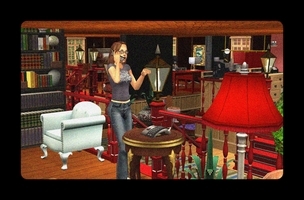 She doesn't have that many friends yet, perhaps because she just moved into this neighborhood? I don't know, what I do know is that she, when she needs to talk to someone and she can't reach her friends, she will find different ways to use her energy. She has a strange way of doing so: I'm used to a lot of oddities but some people take it really far. Do you think it's normal that she has her way with bunnies? And I don't mean the annoying small white ones hopping around: no I mean the big ones that come to visit when you're lonely. As you will probably understand I never actually got a visit of these myself: I'm way too busy to be lonely! The next picture of my security camera can be very shocking: de entire video of this incident is saved to my digitalized archive: always useful to keep this in case I need Rosana at a later date to do something she really doesn't want to do.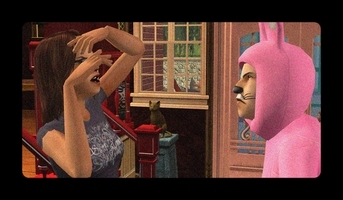 "I want to raise a family, a big family actually!" Rosana says quite often. "I come from a small family and I have felt alone a lot when growing up. I don't want my children to feel that way. I also want to take my family to another neighborhood, to explore the world you know. And I would love to experience meeting aliens, and let's not forget: maximize all skills".
Well I don't know about you, but if Rosana handles bunnies this way it's probably better to wait before she starts a family. I don't quite care for children but I just imagine and think them seeing their mommy scolding and smashing a bunny, to blow off some steam isn't really good for their delicate little souls.
Anyway: she sure is a hard worker because when I got back from Riverview, after a few days of rest, all the digitalization work was done and I have to admit that I now have a beautiful and well arranged database of gossip and secrets which is pretty nifty. I asked her of she wanted something other than Simoleons for all the work she had done and after a long time to think about it she asked for a swing bench, a jam canning station or a bread oven. "We used to have these kind of items back in the days" she said "now they are not to be found anywhere, I'm hoping for a miracle?". I frowned: which objects is she talking about? I'm now more than convinced that spending too much time at a computer can't be good for a person!
It was about time to round it all up: I wasn't really planning on paying her. It's really none of your business how I make my money, but spending my money on chores that need to be done in and around the house is a waste of money. There was only one solution: erase her memory through my converted lie detector, because she just had too much info at that point.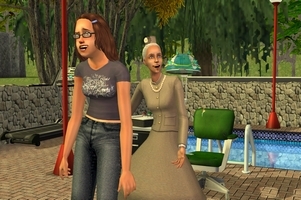 20 minutes later Rosana sat at on her sofa at home watching her favorite soap, with a surprised look on her face like 'hey, I think something has happened to me, but what? ...and I got fired by the IT company I worked for because I didn't show up for 3 weeks' ...she will probably never find out what happened.
Greetings!
---
As I already told you, Rosie, I LURVE this story, it's so funny xD

Deze smiley's worden gepromoot door Tamara:




---
---
---
Who is online




In total there is 1 user online :: 0 registered, 0 hidden and 1 guest (based on users active over the past 5 minutes)
Most users ever online was 97 on Jun 05, 2013 4:06pm

Users browsing this forum: No registered users and 1 guest