I'll try to keep this post as short as possible, but I have to explain a few things about this new website and forum you're looking at right now.

Although I have been working on the new website for years, I never really got a chance to finish it properly, all because I was too busy with work and my personal life. Now although I still have both

I'd still like to continue with SNW. I've missed it so much! For the Gamescom I decided I just needed a proper website so that's why I rushed the website and forums online. But you should know, this isn't nearly done.
The old websites were all separate. I've merged the English SimsNetwork and Dutch SimsNetwerk, which will be less time consuming in the future. At this point, only news and forums are online. The forums were merged from SimsNetwork, SimsNetwerk and our Spore forums from SporeNetwork. I then removed all users with a post count of 0. Simply because it's very likely these people will never login again, if they even remember ever having registered here in the first place. Remember SNW is almost 7½ years old. We had over 150.000+ users or so in total. We "only" have approximately 1800-1900 left. I actually don't see this as a loss. I think this is a good thing! For the server load, and for you! Because a lot of the user names are available again!

Now a lot of people have seen what our new
"Moonbeam"
version of the website looks like. Soon we'll add
Filmore
and
Sanbello
, both website and forum styles inspired by previous themes on the previous SNW. To keep a bit of nostalgia! These themes are only available to members.
Very soon we'll add more items to the website, or rather, reveal them. Items such as downloads, goodies (wallpapers), Simpedia, help pages, legacies, tutorials and more. It's best just to stick around and see all of these changes for yourself! It'll be worth it, I promise!
With the launch of this renewed website, we also have a different team. There's still me of course. ChEeTaH is still here. He is a bit of the techie around here, if something isn't working, it's likely he will fix it. Then we have two of our lovely forum admins; Paul and Mogway. And we have three awesome forum mods; Jeffrey, Jean and Patricia. Some team members are still thinking about what it is they want to do besides keeping an eye on the forums. So we'll tell you more about that soon!
With everything still being worked on, you should keep in mind that the website will be messy sometimes; forums still need a good cleaning, pages will be missing, some stuff may not be working. You can always let us know on our forums if you come across something.

Be welcome (or welcome back!) on SNW. We hope you enjoy your stay. And we hope you will be able to enjoy the (positive) changes in the next few months!

==================================================
CHANGELOG August 24, 2011
450+ users (previously from SimsNetwork) were in the wrong (no longer existing) group, therefore these users couldn't login or change password. This has been fixed
The board sometimes disabled itself because of the server load. This setting has been increased to make sure the board doesn't just disable itself anymore.
Added The Sims Social subforum and Non-Sim Games subforum.
==================================================
CHANGELOG August 27, 2011
==================================================
CHANGELOG September 2, 2011
We had a lot of important posts on the front page I had turned into sticky posts. However there were too many so I activated the Spotlight block (which is actually for our downloads) to show some of our latest previews, reviews and a link to the forums. Until the actual navigation (menu bar) returns, which will be very soon!
==================================================
CHANGELOG September 4, 2011
Did a lot of CSS work (not quite done yet, but I've improved it a lot already). Especially on the Private Messages section.
Added a lot of profile fields on both forum and website. Most of these profile fields are synced. So when you update on the website it'll copy your fields to the forums and vice versa. This doesn't work for the (not quite finished) Games lists on the website. Those are website only. Not by choice, it's just not possible on the forums. Unfortunately.
==================================================
CHANGELOG September 5, 2011
Wrote an extensive guide for the team members on how to use news. This may seem simple, but there are a lot of things they have to do to make it look pretty!
==================================================
CHANGELOG September 11, 2011
Created a lot of unique and new icons for the profile pages. Speaking of which, the (website) profile pages are in the middle of a huge makeover as well. We're not quite done with the profile pages yet, but you can already select the games you own. This is optional, and just a bit of an extra for our members. Here's a preview (click for the big screenshot):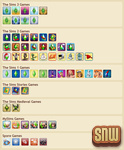 Last edited by
Rosana
on Sep 11, 2011 10:12pm, edited 9 times in total.
Reason:
Changelog!!
---
Super duper awesome Rosie !


Forum Rules
|
Forum Regels
| [url=http://www
---
Sounds like big plans! Good thing you finally got the make your website like you wanted. And also merging it will probably feel so much better

Well done is what I would like to say so far.
-->>
Klik hier voor Patricia's SNW Blog
/Nieuwe update 12-01-2012
-->
Klik hier voor het dagboek van de familie Engelman
/Nieuwe update 15-01-2012
---
---
Giggles you can do it Roos

ghehhe no seriously you can

---
I'm looking forward to the rest of the changes in the future.


---
I'm pretty sure everything is going to be rad.



Last bumped by Rosana on Sep 02, 2011 4:34pm.

Forum Rules
|
Forum Regels
| [url=http://www
---
---
Who is online




In total there is 1 user online :: 0 registered, 0 hidden and 1 guest (based on users active over the past 5 minutes)
Most users ever online was 97 on Jun 05, 2013 4:06pm

Users browsing this forum: No registered users and 1 guest